Programs
Brochure
This page is the brochure for your selected program. You can view the provided information for this program on this page and click on the available buttons for additional options.
Beijing, China
(Outgoing Program)
Program Terms:
Academic Year,
Fall,
Spring

Program Dates &
Deadlines:
Click here to view
Restrictions:
AU- applicants only
Budget Sheets
Fall,
Spring

| | | | |
| --- | --- | --- | --- |
| Housing: | Dormitory, Homestay, Shared Apt. | Language Pre-requisite: | No |
| Language of Instruction: | Chinese, English | Language Courses Offered: | Yes |
| Non-AU Students Accepted by AU: | No | Internship: | Yes |
| Advisor: | Ethan Merritt | Minimum GPA: | 3.0 |
| Class Level Required for Admission: | Second-semester Sophomore standing | Program Type: | Not Direct Enrollment |
Is this Program Right for You?
Whether you're interested in Chinese arts, culture, philosophy, political science, economics, business, history, international relations, Asian studies, or in Chinese language, there is no better program for you. The Beijing program at the China Studies Institute offers a broad range of opportunities to learn more and explore China as you will be living, studying and interning in Beijing while also traveling to other regions. The program is a special institute based on campus at China's premier institution of higher learning, Peking University. Extensive academic field trips, an experiential placement with a Chinese company/organization, and other activities provide students a truly in-depth look at China.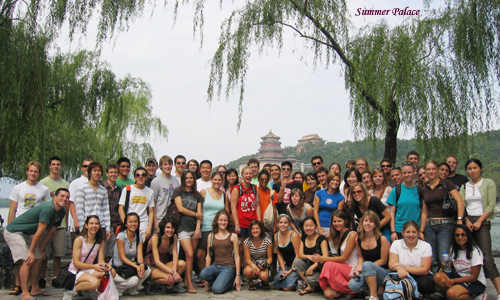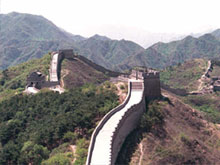 Academic Information
Prerequisites
While there is no Chinese language prerequisite for the Beijing program, study of Mandarin Chinese prior to participation in the program is strongly encouraged.
Courses
Students earn a full semester of American University (AU) credit. These credits are readily transferable to other colleges and universities. Following are descriptions of example courses typically offered. Courses are taught in English except for Chinese Language. For further details on courses available, please the China Studies Institute website.


Course Equivalency: Most courses offered on the Beijing program have already been pre-approved and given equivalencies by AU departments. Click here to find out which courses on this program have already been equated to AU courses. Please note that you are NOT limited to just these courses. Students will need to request equivalency for courses which have not been previously reviewed.
Please note, not all courses are offered each semester and courses available are subject to change. Courses with low enrollment are subject to cancellation.
China in the Global Economy
( 3 credit hours)
This course will examine the evolution of China's increasing role in the global economy. It will deal with different aspects of China's foreign economic relations, including trade, investment, the impact of WTO accession, regional integration and international economic institutions.
Chinese Arts and Culture
(3 credit hours ---
this course is eligible to count for General Education requirements
)
This course aims to give students a better understanding of ancient and modern Chinese fine arts (painting, sculpture, architecture, etc), as well as folk and popular arts (crafts, opera and film). A comparative approach will be employed to highlight differences with Western genres.
Chinese Political Reforms
(3 credit hours)
This course aims at understanding the two and half decades of reforms in the People's Republic of China. By discussing the reforms' background conditions, international context, policy options, difficulties, achievements, failures, and possible future, the instructor intends to lead an advanced course on contemporary Chinese political economy.
Chinese Women's Studies
(3 credit hours)
This course takes students to the contemporary world of Chinese women and the issues which they face in this fast changing society. Besides a brief introduction of the subhuman treatment of women under the old society, the course will focus on the changing status of women starting with the Chinese revolution in the 20th century. How did women fare under socialism and what affected women's status and rights under current capitalist development? Concrete issues, such as employment, education, family relations, and political participation, will be addressed. Comparisons, not only with China's past, but also with the Western societies, will be made to assess Chinese women's status vis-à-vis the world.
Sino-American Relations
(3 credit hours)
The vicissitudes of contemporary Chinese American relations and causes of sometimes hostile conflicts are explored in this course. The course concentrates on Post Cold War events in the context of American predominance, decline of Soviet power and emergence of China as a new force on the international scene. Bilateral issues, such as Taiwan, and global ones, such as terrorism, will be discussed in details.
Doing Business in China
(3 credit hours)
This course introduces students to China's multi-faceted business culture as well as practices. It includes topics such as capital markets, banking system, tax structure, labor relations, consumer behavior, government-business relations. It prepares students for both understanding practical aspects of business and starting a career in multinational firms.
International Business and China
(3 credit hours)
An introduction to international economics with an emphasis on the trade issues of China, this course covers the main theories in international trade, their empirical relevance, and their roles for the Chinese economy. It also links these conceptual tools provided by international economics to actual strategic and operational decisions of exporters and multinational enterprises. Upon completing this course, students should be familiar with the analytical methods used by economists and apply economic principles to understand China's growing role in the world and managerial decisions made in internationally oriented firms.
China in Transformation, 1840s-1960s (Modern Chinese History)
(3 credit hours)
The course aims at understanding of China's transition from a traditional society to a modern nation by examining the historical forces since the mid- 19th century. Nationalism and Communism will be two organizing themes that provide a framework to thread various phenomena all the way to Chinese Communist victory in 1949. The post-Mao reforms that undid China's communist economic system will also be discussed.
Rural Economics
(3 credit hours)
This course is designed to help students understand the rural dimension of China 's economic transition. It examines the impacts of economic reforms on the life of Chinese peasants, including the effects of marketization and globalization on income structure, labor mobility, ownership rights and other major aspects of the rural economy. It also provides an overview of the implications of the changing economic landscape for social and political development in rural China. The reading materials include a diverse and balanced collection of studies done by both external and domestic specialists.
China Inc.: Understanding China's State-economy Relations
(3 credit hours)
Few countries have undergone as rapid and profound an economic transformation as contemporary China. The course aims at understanding China's state-economy relations by examining the economic and political dimensions of Chinese economic development.
Contemporary Chinese Novels and Society
(3 credit hours)
This course explores the relationship between literature, man, and society by analyzing the works and minds of major 20th century Chinese writes and against the background of anti-traditionalism and East-West culture encounters.
Chinese Media Studies
(3 credit hours)
This course examines the role of media in contemporary Chinee society in an era of globalization, and changing social structures. The new forms of media, internet and cellphone, as well as traditional radio and TV will be thoroughly explored.
Multi-ethnic Cultures and Chinese Society
(3 credits)
The course will introduce the history of major Chinese ethnic groups and their transformation in modern period. The course will focus on the relationship between and among major ethnic groups in contemporary China, especially the relationship between Han Chinese, Tibetan, Mongolian, Uygur and Hui People (Chinese Muslim).
Social Stratification and Inequality in China
(3 credit hours)
The course will explore various aspects of social life before and after the reform in the 1980s, focusing on the social stratification and inequality in social lives. It will help students to understand Chinese social structures both in rural and urban societies, leading them to pay attention to the two systems that are essential to social stratification in China: the Hukou and work-unit. The class will also examine how market transition transforms the family life and women's role and status in China.
Independent Studies
(1-4 credit hours)
Independent studies can be arranged with on a case-by-case basis with the Program Director. Topic range covers research projects from contemporary political, economic, and diplomatic issues to historical inquiries. Credit will be rewarded in accordance with the amount of research work.
Additional new courses are sometimes offered by the program each semester.
Chinese Language
Language classes are offered all all levels through elementary, intermediate, and advanced. Tutors are available for special cases.
First Level Chinese
(6 credit hours)
Through intensive instructions and pattern drills, the elementary level class will not only introduce students to Chinese language but more importantly will help students to master basic spoken Chinese. At the end of the course, students should achieve a level of functional Chinese in daily life.
Second Level Chinese
(6 credit hours)
The purpose of the intermediate level class is to help students increase reading comprehension as well as oral proficiency in Mandarin. After this class, students will be able to independently learn Chinese on their own and participate in advanced language training course either in the US or in China.
Third Level Chinese
(6 credit hours)
Students in the advanced class will learn to appreciate various unique aspects of written and spoken Chinese. Chinese will be the language of instruction with the purpose of reinforcing students' skills in speaking, listening, reading, and writing. Also, the class will introduce and discuss important aspects of Chinese culture and current news.
Fourth Level Chinese
(6 credit hours)
Students in the higher advanced class will learn to appreciate various unique aspects of written and spoken Chinese. Chinese will be the language of instruction with the purpose of reinforcing students' skills in speaking, listening, reading, and writing. Also, the class will introduce and discuss important aspects of Chinese culture and current news.
Special Language Session
(4-6 credit hours)
Special cases of advanced students who do not fit in regular classes (for instance, Chinese Americans) will be organized into this special session. here, language studies will be more vigorous and demanding.
Martial Arts and Calligraphy
(non-credit)
These courses are designed to enrich students' lives in Beijing as well as helping them understand specific aspects of traditional Chinese culture.
*Classes are subject to cancellation if enrollment is less than 5 (except for language classes).
Experiential Components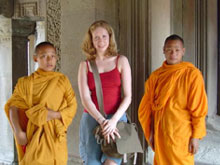 Experiential Placement with Company/Organization in Beijing
This is an excellent opportunity to gain an understanding of China's business and professional culture as you acquire experience in a country with growing economic influence. Students volunteer full-time two days a week at their placement. Placements are made by the Program Director based on a student's general preferences. Although every effort is made to match a placement with student interests,
no particular type of organization placement can be guaranteed.

Field Trips/Excursions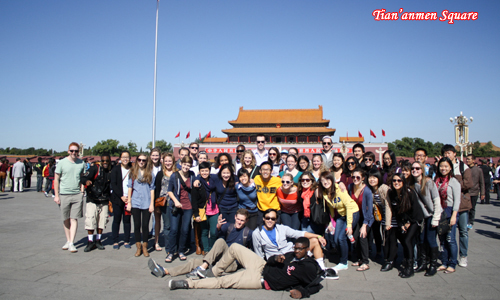 Extensive study trips during the Beijing program give students a first-hand look at Chinese society. Excursions in and around Beijing have included the Great Wall, the Ming Tombs, the Summer Palace, Temple of Heaven, Forbidden City, and Beihai Park.

With guidance from the Program Director, students also take a lengthy field trips throughout China. Students explore economic development and the gap between urban and rural areas, meet entrepreneurs and business leaders, visit sites of cultural significance and study Chinese ethnic minorities.

[Temple] Excursion locations have included (subject to change):
Shanghai
Hangzhou
Suzhou
Shenzhen
Hong Kong

Luoyang
Xi'an
Chengdu
Longsheng
Yangshuo

Xi'an
Chengdu
Lijiang
Dali
Kunming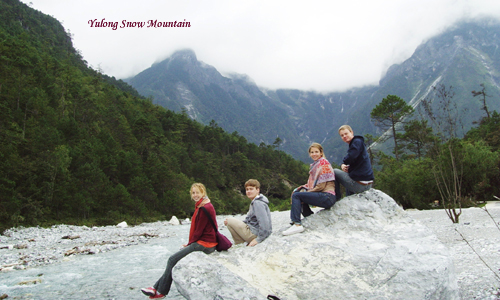 Student Life
Housing and Meals
During the semester in Beijing, students live in on-campus residence halls at Peking University. Arrangements for student housing are made in cooperation with Peking University. Most students live on campus, although some limited options for off-campus housing and homestays may be available.
Students may eat meals on campus at Peking University or elsewhere. There are numerous inexpensive cafeterias and restaurants in and around campus (the cost of meals is NOT included in the program fees).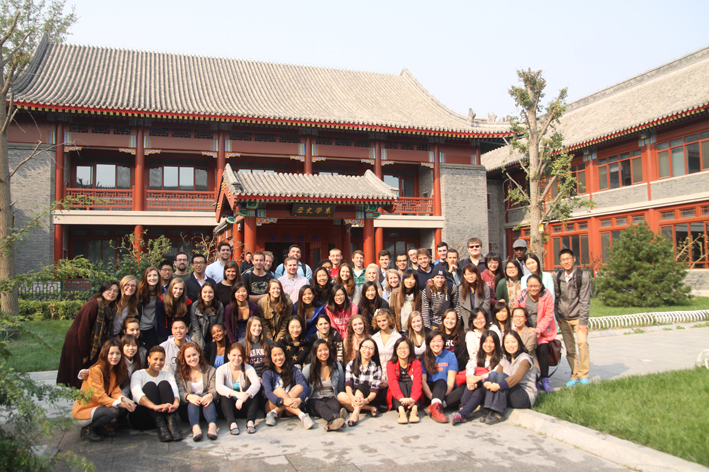 Term

Year

App Deadline

Decision Date

Start Date

End Date

Spring

2016

10/14/2015 **

Varies by program

01/15/2016

04/30/2016

Academic Year

2016-2017

03/09/2016 **

Varies by program

08/26/2016

04/30/2017

Fall

2016

03/09/2016 **

Varies by program

08/26/2016

12/08/2016

Spring

2017

10/12/2016 **

Varies by program

01/13/2017

04/30/2017


** The time it takes to receive an admissions decision varies greatly by program; it can take as little as two weeks or as long as several months. Contact AU Abroad for further details on your program's admissions timeline.

Indicates that deadline has passed