Programs
Brochure
This page is the brochure for your selected program. You can view the provided information for this program on this page and click on the available buttons for additional options.
Kenya: Contemporary Issues In Kenya and Africa
Nairobi, Kenya
(Outgoing Program)
| | | | |
| --- | --- | --- | --- |
| Housing: | Homestay, Shard Apt | Language Pre-requisite: | none |
| Language of Instruction: | English | Non-AU Students Accepted by AU: | Yes |
| Internship: | Yes | Advisor: | Kelly Jo Bahry |
| Minimum GPA: | 2.75 | Class Level Required for Admission: | Second-semester Sophomore standing |
| Program Type: | Partial Direct Enrollment | Advising Required: | Yes |
Is This Program Right for You?
This program is designed for students who are looking to intern and study in Nairobi, Kenya for a semester or an academic year with AU Nairobi, and was formerly called Issues of Sustainable Development. In the spring semester this program has two different tracks: Environmental Science and Politics & Society. The program's main focus is to get students to live through environmental impact, history, politics, development, and international relations that Nairobi, in all its complexity, offers. Students will visit with homestay families in an urban neighborhood and also live in shared, secured housing with other students on different programs with AU Nairobi, such as the
Public Health Program
. Watch a
video of AU Nairobi's programs here
.
Students are encouraged to have taken a cross-cultural class such as SISA 341 Intercultural Communication, SOCY 110 Sociology of the Global South, or ANTH 110 Culture and the Human Experience, or equivalent before studying abroad in Kenya. Students will share orientation, accommodation, and excursions with students attending other tracks who also participate with AU Nairobi. During the program, you are required to participate in an internship and to take Swahili and an institutional strengthening class, as well as choose from several other topics courses that can involve a variety of subjects. Each semester of this program is worth 16 credits.
You can find much more detailed information on this program and life in Kenya at
www.american.edu/aunairobi
.
Academics
FALL
In the fall, students will take all of their courses with other AU Nairobi students at the AU Nairobi Center, unless a student chooses to take one course at a partner university set up through AU Nairobi.
Required:
Internship SABD 391; 3 cr ***or*** Internship SABD 391 CL; 3 cr
Kiswahili SWAH; 3 cr
Immersion in Another Culture SABD 325; 1 cr
Social and Political History of Kenya HIS 314; 3 cr
Institutional Strengthening in Kenya SISA 341; 3 cr
Choose one of the following:

Geographies of Gender in Development WGSS 350; 3 cr
a course at a local university 3 cr
Descriptions of Courses
Kiswahili
SWAH 112, 113, 212, 213
(
3 credits; required
) Kiswahili is the largest and fastest growing African-based language spoken in Africa. Between 100 and 150 million people speak it in various capacities. It is the lingua franca for most of East Africa and parts of Central Africa. It is also the national or official language of at least five nations; Kenya, Tanzania, Uganda, Democratic Republic of Congo and the Union of the Comoros. As a part of cultural immersion, AU Nairobi offers the students semester-long Kiswahili course. While we primarily offer the Beginners' and Intermediate Kiswahili, students who choose to study in Kenya for the full year may be able to take more advanced Swahili through special arrangement with the AU Abroad office.
Internship
SABD 391
(
3 credits; required
) Many students choose the Kenya program because of the hands-on experience gained at the internship sites. The program has a pool of community development organizations based in Nairobi. The focus of these organizations cover a wide range of subjects and include water and sanitation programs, youth empowerment projects, microfinance institutions, arts for social change initiatives, human rights and justice among others. Students can work with the resident director to arrange for internships that meet their career or study needs.
***OR***
Internship
SABD 391
CB
(
3 credits; required
) This course functions as community-based service learning with an additional 20 hours required to fulfill this requirement: this technique integrates meaningful service with instruction and reflection to enrich the learning experience, teach civic responsibility, and strengthen communities. During the course of the semester, students critically process and reflect on their experiences to heighten their engagement with central academic themes, bridge theory and practice, and contribute to clarification of their own personal values, career goals, and sense of social responsibility. You can find more information about the CB designation
here
.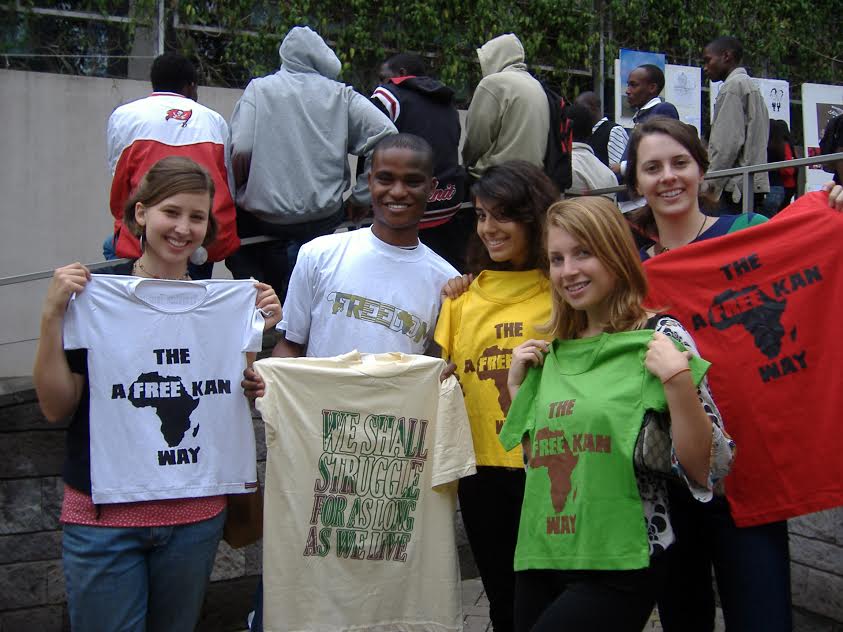 Social and Political History of Kenya
HIS 314 (3 credits; required
)The course is tailored to give the students an in-depth exploration of the country's history, its diverse cultures and the evolution of its national political institutions. It is expected that at the end of this course, the student will have attained some understanding of how Kenya came to be, how it relates to the international community and what challenges both internal and external, the country is grappling with.
Immersion in Another Culture
SABD 325
(
1 credit; required
) This course is designed to facilitate your immersion into Kenyan Culture in order to maximize your study abroad experience. The class will look at aspects of Kenya's diverse and complex culture in the context of being an international student. We will explore cultural patterns, identity, ethnicity, gender and stereotypes through an anthropological lens. Guest lecturers will be invited to share their expertise on specific topics.
Institutional Strengthening in Kenya
SISA 341
(
3 credits; required
) Kenya has a vibrant civil society made up of thousands of non-governmental organizations (NGOs) and other groups that represent community interests and provide crucial social services to many people. This course will focus on such organizations. The students will have the opportunity to study the locally-based NGOs in terms of their structures, their approach to particular issues of development, the challenges they face and the overall political and social context in which these organizations operates. The course will be closely linked with students' internships (see below). As such, the students will be expected to gain first-hand experience through observing and participating in the work of at least one developmental organization. As many of these organizations subsist largely on financial grants, the student will be expected to develop a model grant proposal for the organization one will have worked with.
Geographies of Gender in Development
WGSS 350
(
3 credits)
This course will investigate a number of competing conceptions of development within the African context from a gendered perspective. The underlying political, economic, social, and gender dynamics that make "development" a continuing global problem will be explored by looking at issues such as health and reproductive rights, livelihoods and land rights, human security and political participation. It will examine women's contributions to, challenges to, and revisions of the terms of key conceptual and political debates in development. It is taught at the AU Nairobi Center.
A course at a local university
(
3 credits; optional
)
Academic Year Students
Independent Research Project
(
3-6 credit hours offered to full-year students in the second semester
)
Students who choose to stay in Kenya for a full year will do an independent study during their second semester. Through consultations with the country director and professors at AU (or for non-AU students, professors at their home universities), students will be given an independent study advisor and spend the semester exploring a specific topic. This will culminate in a final project or paper that may be combined with a capstone project or senior thesis.
Scholarships
AU Abroad offers several merit based
Mobility Awards
every semester ranging from $250 to $2500. Students need who are interested in applying for the Mobility Award need to do so separately from the AU Nairobi application.
In honor of the 10th anniversary of AU program center in Kenya, the AU Abroad office is offering "Kenya Kumi" scholarships of up to $5,000 per semester for Pell-eligible students participating in one of AU Abroad's programs in Nairobi Kenya. The Kenya Kumi scholarship application can be accessed by students who open a application for this program.
Student Life
More detailed information on student life is provided through
www.american.edu/aunairobi
.
Kenya is a fascinating place, and you will get to know just a taste during your semester. Now with a population of around 30 million and over 40 tribes, Kenya's multiplicity is easily felt in this capital city. Currently Nairobi is home to about 2.5 million inhabitants and the numbers are growing. As a result, Nairobi has become a very metropolitan city, with the complexities of any globalizing culture. The city provides a place to converge for intellectuals, politicians and political activists, artists and entertainers, successful business owners, and laborers. Residents include large communities of refugees from across the continent, expatriates, and descendants from the Indian subcontinent, not to mention the Kenyans who have a historical legacy with the area or who come to the city looking for work.
Nairobi is very representative of a global phenomenon – urbanization of the rural poor and the issues that come with it. Nairobi is also a major international hub of Africa with a myriad of organizations ranging from the headquarters of the UN Environmental Program to an assortment of NGOs and businesses. If city life becomes overwhelming Nairobi provides a base in which rural areas and national parks are easily accessed in as little as one hour drive away. The AU Nairobi program recognizes the assets Nairobi offers and the need to educate in an urban environment to better prepare students for the challenges faced by international workers in this ever growing, interdependent, global society.
Weather
Although the equator bisects the country – leading to assumptions that it must be hot! - be prepared for Nairobi to be colder than you expect since it is over a mile high by altitude. Instead of the traditional four seasons that many people in America are used to there are the 'long rains' and 'short rains' in Kenya. In Nairobi the 'long rains' are usually from March to the beginning of June and the 'short rains' are from October to the end of November. In its coldest nights Nairobi can be around 45 F and on the hottest days it can get up to 90 F.
Accommodation
Students will live in three very different ways during the semester in Nairobi. During part of orientation and then during "rural week" students will live in a rural setting. Students will then live with homestay families in Nairobi for three to four weeks. Then students will live in their own private and secure apartments. These apartments are fully furnished and offer a TV, kitchen, a laundry room, and maid services. Each apartment can house at four to five students. Electricity is paid by the students, and meals are not included in the program fee. Students will only share these apartments with all AU Nairobi students.
Excursions
There will be many day trips incorporated into the program during you semester. Students are not permitted to leave Kenya during their time with AU Nairobi and will be alerted to any place they are not allowed to travel within the country.
The programs core overnight excursions included in the program fee are:
Orientation – part of the intensive orientation period takes place in a smaller town outside of Nairobi. Here students will be introduced to survival Swahili, go through a cultural orientation process and have their first immersion into Kenyan life.
Rural Excursion – Each semester, students will be taken to a rural village site where they will engage in various rural development projects. These trips also include visits to local landmarks and a homestay experience.
End of Semester Excursion – Students will be treated to a retreat during their final week in Kenya. This an opportunity to hike and explore conservation issues, as well as debrief on everything learned during the semester.
Immunizations and Visas
There are no immunizations required for international travelers entering Kenya, but the
Center for Disease Control
strongly recommends a list of immunizations that are available through a specialized medical practitioner.
Visas for American citizens
can be acquired through an online process for a fee, and AU Nairobi will help students gain a student residence permit. If you are not an American citizen please consult with the study abroad advisor and the Kenya embassy before you leave for Kenya.
Term

Year

App Deadline

Decision Date

Start Date

End Date

Spring

2016

10/07/2015 **

Varies by program

01/05/2016

04/22/2016

NOTE: Students need to arrive at the Jomo Kenyatta airport in Nairobi between 6pm and 11pm to be picked up with program transportation. Students can fly out of Kenya anytime on April 23rd.

Academic Year

2016-2017

03/09/2016 **

Varies by program

TBA

TBA

Fall

2016

03/09/2016 **

Varies by program

08/30/2016

12/17/2016

NOTE: Students need to arrive in Nairobi the evening of Tuesday, August 30th. Students can leave Nairobi on December 17th.

Spring

2017

10/05/2016 **

Varies by program

01/04/2017

04/20/2017

NOTE: Program dates are estimates. Do not finalize travel arrangements until exact dates are given by program.


** The time it takes to receive an admissions decision varies greatly by program; it can take as little as two weeks or as long as several months. Contact AU Abroad for further details on your program's admissions timeline.

Indicates that deadline has passed