Programs
Brochure
This page is the brochure for your selected program. You can view the provided information for this program on this page and click on the available buttons for additional options.
Egypt: University of Alexandria (Middlebury)
Housing:
Dormitory, Homestay
Language Pre-requisite:
5 semesters of Arabic (or equivalent)
Language of Instruction:
Arabic
Language Courses Offered:
Yes
Non-AU Students Accepted:
No
Internship:
No
Advisor:
Kelly Jo Bahry
Minimum GPA:
3.0
Class Level Required for Admission:
Junior standing
Program Type:
Not Direct Enrollment
This program is currently suspended



Is this program right for you?

This program is suited for students dedicated to intensive study of the Arabic language during four classes, earning sixteen credits a semester. This program is designed for upper intermediate and advanced language students who take an Arabic language pledge during the semester to further and deepen their understanding of this complex culture.
Academics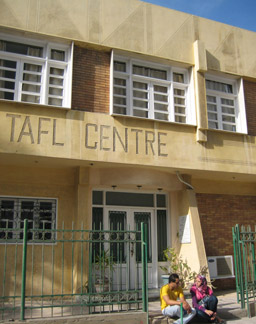 American University students have the opportunity to enroll in Middlebury College's School in the Middle East, based at the University of Alexandria. Middlebury continues its long tradition of language instruction in Alexandria by providing an immersion experience where students live and learn entirely in Arabic. Middlebury College's School in Alexandria offers a curriculum designed for high intermediate and advanced Arabic language students. All course work and program components are conducted entirely in Arabic.

Additionally, students must adhere to the Middlebury College Language Pledge during all courses and program activities. This is a commitment that is taken very seriously by the staff and faculty and students should expect to conduct themselves in Arabic at all times.
Courses
The academic program is made up of the following program each semester, for a total of 17 hours per week:
* Modern Standard Arabic (MSA) - 6 hours/week
* Egyptian Colloquial Arabic - 4 hours/week
* Arabic Translation or Media Arabic - 4 hours/week
* One-on-One/Content-Oriented Tutorial - 3 hours/week
* Enrolled students will receive a list of one-on-one topics several months prior to departure. Offerings include tutorials focusing on Politics, History, Religion, Literature, Geography, and Sociology/Anthropology. Some examples of offerings can be found here.
* Normally students take four courses, each worth 4 AU credits.
Prerequisites:
-AU Students must complete ARAB 303 or its equivalent to participate in this program.
-AU Students enrolled in ARAB 227 may be eligible to apply if they enroll in AU Abroad's Summer Intensive Arabic program in Alexandria prior to participating in Middlebury's program.
-Students should have earned a B or above in any Arabic courses taken at AU.
Student Life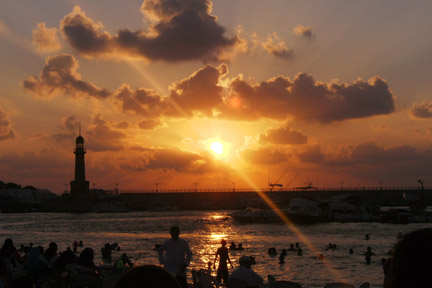 Alexandria, the second largest city in Egypt, is a city where ancient history meets a thriving modern culture. The city and its 4.1 million residents stretch out along the Mediterranean coastline, which has welcomed visitors to Egypt from Alexander the Great to tourists seeking the cooling coastal breezes. Alexandria is an excellent destination for students seeking a real Egyptian experience! Examples of student handbooks for students studying in the Middle East can be found here.
Alexandria is known as Egypt's gateway to the West and a resort getaway for many in the region. It offers parks, beaches, cultural activities, shopping, film and modern art festivals as well as Greco-Roman and Arab architecture and monuments. The city is home to many places of worship representing the Islamic, Christian and Jewish faiths, although the latter is very limited today as much of the community has left. The Church of Alexandria is the Mother-Church for Copts all over Egypt and Coptic Pope is named the Pope of Alexandria. Orthodox, Greek, Catholic, American and Protestant Churches are found all over the city. Islamic sites include many historic mosques such as Abou el Abbas (1219), built in Andalusi style, el Bosery Mosque and Sidi Bishr Mosque. While the Jewish community is now quite small, one can find the Synagogue of Alexandria in the city center on Naby Danielle Street.
Housing and meals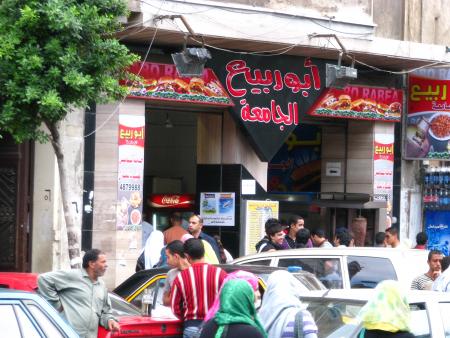 Most students choose to live in the University of Alexandria dormitories, but homestays are an option. The women's dorm is located about a five minute walk to campus, while the men's dorm is about a 20 minute taxi ride (approx. $1 each way!). There are about 50,000 male students living in the dorms' 'University City'; the number of women is less since many students also live at home and commute. The U.S. students have designated floors and are paired with specially selected 'hallmates' (in the case of the men's dorms as rooms are single occupancy) and the women are paired with Egyptian roommates. Students take their meals with their homestay family or in the dormitory cafeteria. The dormitories have air conditioning, internet access and laundry facilities. Only on students' second semester is there the option to live in self-arranged shared apartments. On-site staff must be consulted and officially approve the students' choices.
Program excursions
The Middlebury staff will organize cultural activities and several weekend excursions over the course of the semester.
Visa information
Students must obtain an Egyptian tourist visa to enter Egypt. This can be obtained prior to departure from any Egyptian Consulate or upon arrival at any airport in Egypt. Students will apply for a student visa after arrival in Egypt. The staff in Alexandria will assist you with this process.
Term

Year

App Deadline

Decision Date

Start Date

End Date

Academic Year

2014-2015

02/01/2014**

Varies by program

TBA

TBA

Fall

2014

02/01/2014**

Varies by program

TBA

TBA


** The time it takes to receive an admissions decision varies greatly by program; it can take as little as two weeks or as long as several months. Contact AU Abroad for further details on your program's admissions timeline.