Programs
Brochure
This page is the brochure for your selected program. You can view the provided information for this program on this page and click on the available buttons for additional options.
England: Oxford University-St. Edmund Hall
Housing:
Dormitory
Language Pre-requisite:
none
Language of Instruction:
English
Language Courses Offered:
Yes
Non-AU Students Accepted:
No
Internship:
No
Advisor:
Ethan Merritt
Minimum GPA:
3.6
Class Level Required for Admission:
Junior standing
Program Type:
Direct Enrollment
Advising Required:
Yes
Is this Program Right for You?

Study at one of the most renowned academic institutions in the world - Oxford University! St. Edmund Hall is one of the renowned Colleges that make up the University of Oxford.

Like the other Colleges and Halls of Oxford, St. Edmund Hall selects its own students and is responsible for their academic studies, which are based on the tutorial system of instruction. Modern and progressive in its outlook and committed to a wide range of subjects in the Arts and Sciences, St. Edmund Hall offers a matchless chance to live in the heart of Oxford, to be taught by tutors of recognised distinction in their fields and to enjoy being part of a vibrant and varied community of around 400 undergraduates, 175 graduates and 40 Tutorial Fellows. AU Abroad is thrilled to offer this special study abroad opportunity to select AU students.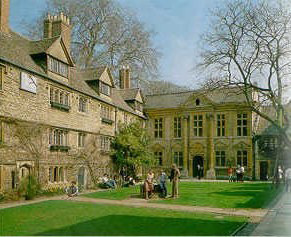 Academic Information
Prerequisites
Students must have a minimum GPA of 3.6 to be considered for the program at St. Edmund Hall.
Courses
Study abroad at Oxford is for a full year. St. Edmund Hall offers study in various areas of the arts and sciences, including Economics, Politics, International Relations, Philosophy, History and Literature. For more information on the subjects offered, see the St. Edmund website.
Study at Oxford is different from any other university. Students choose one or two related subjects to study over the year, which they pursue with a tutor. All subjects follow a core curriculum while also allowing plenty of scope for students to follow their own areas of interest. There are no examinations; students write weekly essays (equivalent to 5-10 page papers) for their tutorials, and will receive cumulative grades at the end of the year. The objective of study at Oxford is to teach students how to think logically, laterally, and independently.
Tutorials generally meet once a week per subject, and students meet in small groups with their assigned tutor. Lectures on a wide variety of subjects are offered by the University, and tutors will recommend to students which lectures they should be attending in addition to their tutorial work.
AU students wishing to study at Oxford will thus need to be able to take all their coursework for the year in a limited number of related subject areas. Before applying, students should discuss in detail with their Academic Advisor what AU course content they need to cover during their year at Oxford, to ensure that tutorials at St. Edmund Hall will be arranged to fulfill the students' needs.

Student Life
Life in Oxford


Oxford is both a university and a city. Colleges, departments, and libraries are interspersed with shops, offices, houses and all the other features of a busy commercial city. It is a city of great architectural and natural beauty; the historic facades and spires of churches and colleges, world-famous libraries and museums dominate the ancient and narrow streets. Oxford city prides itself on its parks, gardens and green spaces. In the spring and summer especially college gardens with their great trees and beautiful banks of flowers offer a restful recess to students and visitors alike. The River Thames winds through the heart of the city at Christ Church Meadow. The University is an ancient one which has grown in complex ways over 800 years. But this long process of change and development, while always trying to retain the best of the past, has meant that Oxford is at once very old and very new. Oxford is proud of a long tradition of excellence and this can make it a competitive place.

Students at St. Edmund Hall enjoy a stimulating social life. All undergraduates belong to the Junior Common Room (JCR), which is a thriving student community. The JCR organizes a number of social events throughout the year which are open to students across the University. There are also a variety of other activities, clubs and sports which students can get involved in.



Housing and Meals


Visiting Students are housed along with other St. Edmund Hall undergraduates in college-run accommodation in one of our several annexes close to the College. Typically each student will have a single study bedroom with a wash-basin and access to kitchens and bathrooms. All rooms have telephone and/or Ethernet connections. Living amongst British students, sharing meals and conversation, helps Visiting Students to settle quickly into Oxford life and to make friends.

Self-service breakfast, lunch and dinner are available in College in the Wolfson Dining Hall every day and there is Hall dinner on Sundays. There are also a number of formal 'Guest Nights' when students can invite their friends and special menus are served.


Schedule


The St. Edmund Hall program is available for the Full Year only (

in some limited cases, part-year study may be possible

).

* Academic Year: October - June
Term

Year

App Deadline

Decision Date

Start Date

End Date

Academic Year

2014-2015

02/01/2014**

Varies by program

TBA

TBA


** The time it takes to receive an admissions decision varies greatly by program; it can take as little as two weeks or as long as several months. Contact AU Abroad for further details on your program's admissions timeline.