Programs
Brochure
This page is the brochure for your selected program. You can view the provided information for this program on this page and click on the available buttons for additional options.
Santiago, Chile
(Outgoing Program)
| | | | |
| --- | --- | --- | --- |
| Housing: | Homestay | Language Pre-requisite: | 4 semesters of Spanish (or equivalent) |
| Language of Instruction: | Spanish | Language Courses Offered: | Yes |
| Non-AU Students Accepted by AU: | Yes | Internship: | Yes |
| Advisor: | Brita Doyle | Minimum GPA: | 2.75 |
| Class Level Required for Admission: | Second-semester Sophomore standing | Program Type: | Not Direct Enrollment |
Is this program right for you?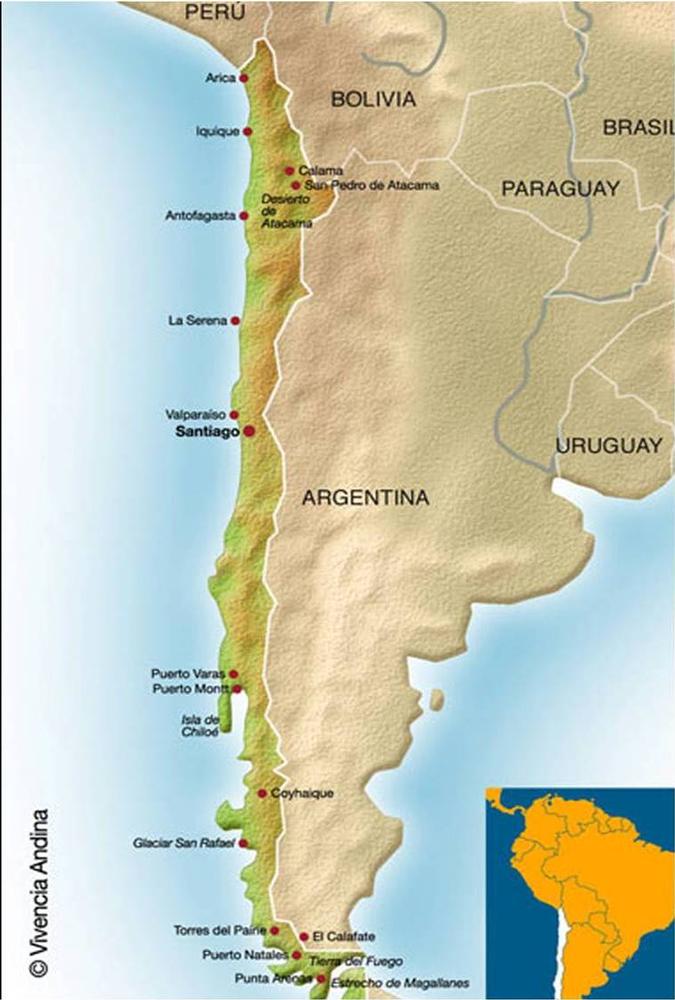 This program is designed for intermediate to advanced Spanish language speakers who seek a structured study abroad program where they take classes in Spanish. Students can choose from a selection of courses taught alongside other study abroad students and more advanced students can mix those courses with with one to two directly enrolled courses with fellow Chilean students. This AU designed program offers credit bearing internships, a pre-arranged homestay placement, organized academic field trips throughout Chile, and dedicated on-site staff to ensure that each student's semester abroad is a success. The program is interdisciplinary in nature and could work for a variety of different majors at AU, including, but not limited to International Studies, Political Science, Environmental Studies, Public Health, Economics, Development, Latin American Studies, and Spanish language majors.
Newly approved courses in Public Health make this an ideal location for Public Health majors in CAS!
Academics
The Chile: Santiago Program is hosted by our long-standing partner institution in Chile, Universidad Diego Portales (UDP). Under the academic supervision of the Director of International Relations at UDP, the program offers a rich analysis of the contemporary issues that affect Chile and Latin America within a context of the world stage, such as global climate change, politics, sustainable development, poverty, social issues, and globalization.
Core Classes taught for study abroad students
The following courses are open to study abroad students at UDP, and are comprised mainly of other study abroad students (however, Chilean students are able to enroll in them also):
Environmental Theory and Conflict;
SISA-354-001S; 3 credit hours
Description: Environmental issues are unquestionably a topic of current high debate, both nationally and internationally. Thus, study of these issues are necessary to understand some of the most important points of tension within society and the environmental dynamic. From the perspective provided from various disciplines involved, this course aims to address the evolution of concepts and debates that build the underlying theoretical matrices to the problem. After reviewing the socio-procedural roots of the current environmental 'crisis', a special focus will be put on conflict and occasional cases of local and international environmental movements, as well as the relations of power and analytical perspectives which are useful in the study of socio-environmental conflicts.
Economic Development in Chile: 1900-2010
; SISA-324-001S; 3 credit hours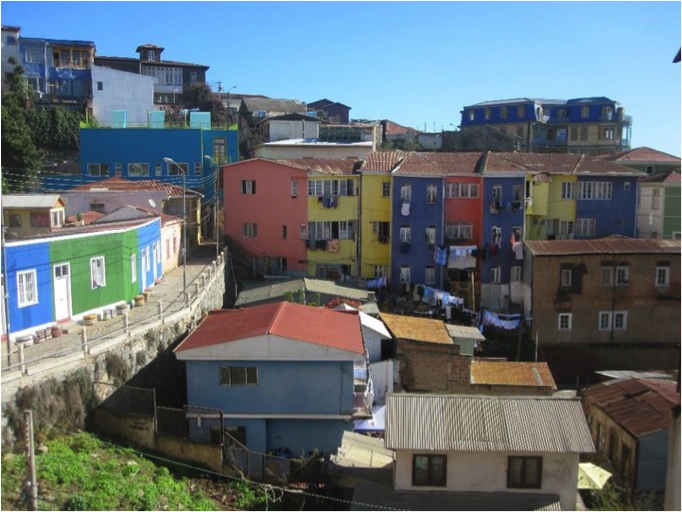 Description: The economic history of Chile in the twentieth century can be described by rapid progress, leaps forward followed by economic recession. It includes pro-market and anti-market economic policies, growth policies that sought international economic integration and economic policies that had hampered this process. It is a history of political and social tensions that favored economic stability within an institutional structure, but unfortunately created tension when distributing development benefits, which led to periods of deep conflict that detrimentally affected economic growth over time. This half year course will examine the various periods that divide Chilean economic history, its economic policies, the institutions that encouraged political and social stability, and the results of these policies in terms of growth and income distribution. Furthermore, comparative economic analysis will be used to examine Chilean economic performance within the Latin American context, and compare it to leading global economies, such as United States, Japan, etc., to recently developed economies, such as Korea, Taiwan, etc., and to intermediate economies, such as Spain, Portugal, etc.
Development, Poverty, and Social Inequality in Chile;
SISA-344-001S; 3 credit hours
Description: For a long time, the conceptual understanding of poverty that has prevailed is centered on economic income. This vision is restrictive because it reduces the scope of the interpretation of poverty to the mere acquisition of income, rendering other important dimensions in human development invisible, such as basic needs, capabilities and opportunities, rights, different forms of capital, social vulnerability, social protection, etc. The objectives of this course are to understand the social problems that most affect Chile. Students will learn about strategies to reduce poverty that have been used in Chile, and will analyze the Chilean reality in relation to development and poverty.
Contemporary Latin American Politics;
SISA-384-001S; 3 credit hours
Description: The objective of this course is to provide the student with an overview of political history in Latin America from the 20th Century to the present. The course focuses on authoritarianism, populism and democracy. Country-specific case studies enhance understanding of the region's current political situation.
Spanish Language Courses
Spanish III; SPAN-323-001S; 3 credit hours
A Spanish language class intended for students who have completed intermediate levels of Spanish, but not in recent history. The course will review the basics of Spanish grammar including present, past, future, and preterite, and imperfect tenses with the objective of helping students gain conversational skills.
Advanced Spanish III
; SPAN-333-001S; 3 credit hours
A Spanish language class intended for students who have completed intermediate levels of Spanish recently at AU, and *may* be ready for Topics when they return to campus. This course starts with a review of the preterite, imperfect tenses, and continues with lessons on the prepositions, pronouns, imperative tense, and present and past subjunctive tenses.
Spanish in Context: Advanced Grammar;
SPAN-388-001S; 3 credit hours
The objective of this course is to develop and improve written language skills as well as to examine advanced grammar rules used to attain linguistic fluency. The course will emphasize written abilities and analyze the different elements of creative writing, personal and work letters, legal documents, books and movies reviews. This class is intended for students who have completed Con and Comp II at AU or have the equivalent of 3 years of college level Spanish. These students are ready to take or have already taken a topics level course at AU.
Optional Courses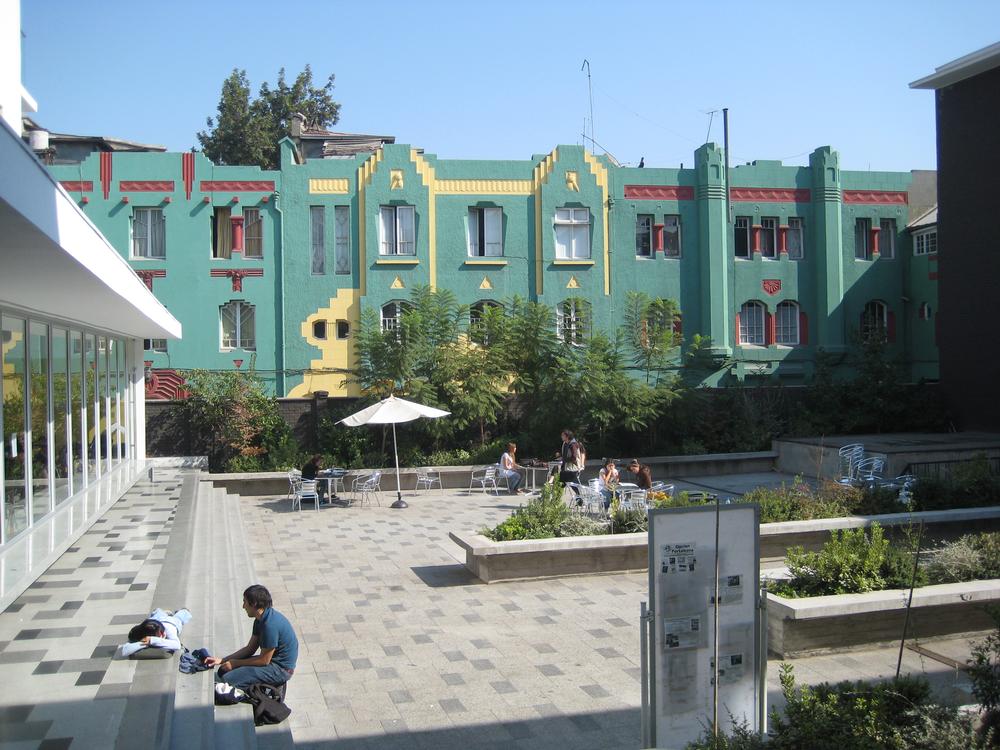 Internship;
SABD 391; 3 credit hours
Description: Through the internship placement, students explore the work environment in Santiago and experience the work culture in Latin America. The program offers a wide variety of internships that include placements in the Chilean government, others with grass roots and non-profit organizations and still others in the private and education sectors. The choice is based on student´s professional goals and personal work styles. New internships are constantly created based on student's needs and interests. The internship coordinator will advise students regarding contacts, interviews, and placement; however, students are responsible for working with program staff to secure their internship.
In addition to the actual time you spend at your internship placement, all interns in Santiago will also participate in a guided course that meets at UDP, usually once every two weeks. A professor from the program instructs this course. In this course, students are able to discuss their internship experience with other interns and to learn more about other student's placements. This is an opportunity to analyze challenges each intern is facing and how to best approach difficulties encountered in the internship. As part of this internship course, students will do some academic assignments and a research paper as given by the professor. The grade for the internship is a combination of an evaluation done by your internship supervisor and the grade for assignments done in the internship course.
Previous internship placement sites include (not all are available each term):
Immersed Courses at UDP;
ABRD-315-001S; 3 credit hours
Description: Students with advanced Spanish language skills have the opportunity to take one more classes directly enrolled within the UDP schedule of classes. These courses are taken directly alongside the local Chilean students and offer an integrated way of learning in the Chilean classroom. Students will have their language skills evaluated on-site to see whether or not they have the approval to enroll in a UDP direct course. In general, students with an intermediate level of Spanish (having completed SPAN 253 or SPAN 352 on campus at AU) should be able to take one UDP course. More advanced students (having completed SPAN 353 on campus at AU) should be able to take one to two UDP courses. The program staff on site reserve the right to evaulate students' language abilities upon arrival to see if they are eligible for this option. Courses on offer at UDP vary from term to term, and the selection of the UDP class will take place upon arrival in Santiago with advice of program staff.
In order to see what classes have been on offer in the past, click on the link below to the UDP course catalog. Once you've been directed to the page, click on option number eight, "Cursos de Formacion General." These general studies courses are the most popular with visiting study abroad students.
Course Equivalency
Click
here
to find out which courses on this program have already been equated to AU courses. Please note that you are NOT limited to just these courses. Students will need to request equivalency for courses which have not been previously reviewed.
Student Life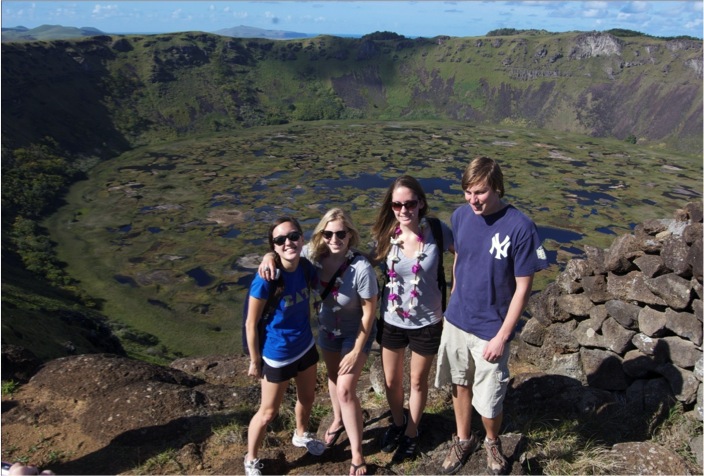 Located on the western coast of South America, Chile measures over 2,600 miles long from top to bottom. At its widest point, the country stretches just 260 miles from east to west. The unique geography of Chile alone begs a visit to this long, skinny, and diverse country. The current population of Chile is over 16 million people, and nearly one third to one half of the population resides in the greater metropolitan area of Santiago, the country's capital city. This program will acquaint students with Chile's rich cultural heritage and varied geography as well as provide a full semester's worth of American University credit.

Chile is one Latin America's most interesting countries in terms of both professional activities and tourism. Chile has signed free trade agreements with countries like China, Japan, USA, and others countries from all continents, showing that Chile is staking its claim as a key strategic business center in South America.

Chile boasts some of the world's most breathtaking landscapes, many of which remain untouched by man. It is a country of stark contrasts, with deserts, icebergs and the Andes Mountains, as well as excellent ski resorts and stunning views of the Pacific. Its culinary credits include sumptuous wines and excellent food, including fresh fruit and vegetables and seafood, which make up a large percentage of the country's exports. Additionally, Chile enjoys a pleasant Mediterranean climate, with stable year-round temperatures and an excellent summer, which including the rest of its characteristics, make it a truly unforgettable destination.
Orientation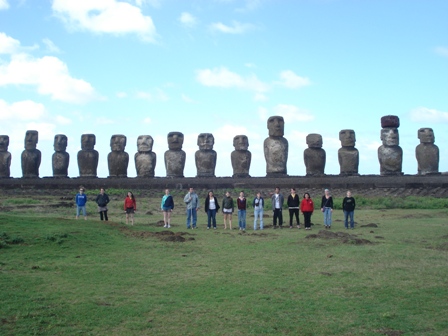 During the first two weeks on-the-ground in Santiago, students will participate in a cultural orientation to help acquaint them with the city. Students are all required to participate in intensive Spanish language classes as part of the orientation. Outside of the classroom, activities include tours of the city, the university, and local attractions. In the past, students have taken an overnight trip to Viña del Mar and Valparaiso, two cities located about an hour away from Santiago on the Pacific coast.
Excursions
During the semester, there will be two program sponsored field trips outside of Santiago. Program-sponsored academic field trips relate directly to the course material studied in Santiago. Trips in the past have included a visit to Easter Island, located over 2,000 miles off the coast of Chile in the Pacific Ocean, and a visit to the northern part of Chile in the Atacama desert. Optional field trips, paid for separately on-site, are occasionally offered too.
Housing & Meals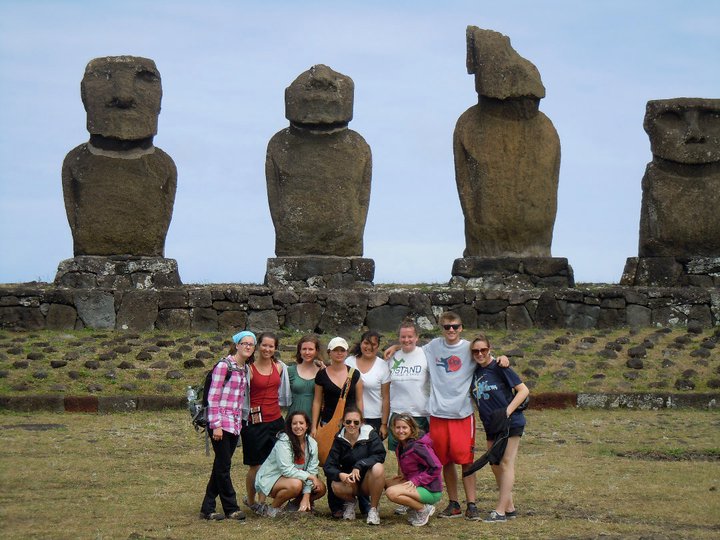 During the semester in Santiago, students live with a Chilean homestay family organized by the program staff. The homestay allows students to experience the warmth and hospitality of Chilean culture while making significant gains in Spanish language ability. During the pre-departure process, students complete a housing profile and questionnaire. On-site program staff match students to a host family to ensure the most suitable living arrangements.

Students learn first-hand about the culture of Chile while enjoying two meals a day with their host families. Lunch is usually eaten out in modest cafes in Santiago as students are downtown for classes during this time. Some students pack lunches as an alternative. Students have ample time to go out and explore the culture and cuisine of Chile throughout the semester.


Visa Information
All students must obtain the Chilean student visa. All students are responsible for finding out visa requirements and for submitting a visa application in a timely manner. Upon acceptance, AU Abroad staff will provide students with a letter that confirms they are enrolled in the Chile program. This letter is a required part of the visa application. All students are responsible for contacting the Chilean Embassy or Consulate to find out which additional documents are needed to obtain the student visa. Non-US citizens should check with the Chilean Embassy to learn about any special requirements.

Students should be aware that one requirement of the Chilean Student Visa application is a federal level background check. This background check can take at least 8-10 weeks to obtain after submitting the request to the proper office. The FBI Identification Record website provides detailed instructions on how to apply. Students are responsible for obtaining this background check far enough in advance to avoid delays in submitting the student visa application to the Chilean Embassy.
Term

Year

App Deadline

Decision Date

Start Date

End Date

Spring

2016

10/07/2015 **

Varies by program

02/27/2016

07/16/2016

Academic Year

2016-2017

03/09/2016 **

Varies by program

TBA

TBA

NOTE: Please note end date is still tentative.

Fall

2016

03/09/2016 **

Varies by program

07/29/2016

12/16/2016

NOTE: Applications are reviewed on a rolling basis for the Chile: Santiago Program. It should take approximately 2-4 weeks to hear of your admissions decision after you have submitted a complete application.

Spring

2017

10/05/2016 **

Varies by program

02/27/2017

07/14/2017

NOTE: Program dates are estimates. Do not finalize travel arrangements until exact dates are given by program.


** The time it takes to receive an admissions decision varies greatly by program; it can take as little as two weeks or as long as several months. Contact AU Abroad for further details on your program's admissions timeline.

Indicates that deadline has passed