Programs
Brochure
This page is the brochure for your selected program. You can view the provided information for this program on this page and click on the available buttons for additional options.
Spain: Universidad Pontificia Comillas - Humanities and Social Sciences Faculty
Madrid, Spain
(Exchange Program)
Housing:
Homestay, Student Arranged
Language Pre-requisite:
6 semesters of Spanish (or equivalent)
Language of Instruction:
English, Spanish
Language Courses Offered:
Yes
Non-AU Students Accepted:
No
Internship:
No
Advisor:
Brita Doyle
Minimum GPA:
3.0
Class Level Required for Admission:
Junior standing
Program Type:
Direct Enrollment
Advising Required:
Yes
Is this program right for you?
This program is an option for students who are seeking a very independent study option in Madrid with all classes conducted in Spanish. Students directly enroll alongside local students at the Universidad Pontificia Comillas within the Facultad de Ciencias Humanas y Sociales (Faculty of Humanities and Social Sciences). Students hoping to participate in this program should have very advanced Spanish language skills and a high level of flexibility.
Students who are successful on this program will be looking for a challenge, be comfortable with a high level of ambiguity and understand the challenges of making new friends in a foreign environment.
Although students in the Comillas program will exist independently and take classes at the Cantoblanco campus of Comillas, they will still have access to the AU Center in Madrid which administers our other AU Madrid programs, and have the benefit of some support by the Director and staff of the AU Center.
Academics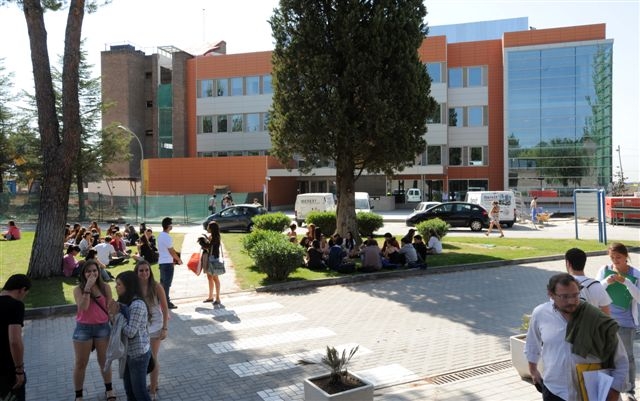 The Universidad Pontificia Comillas, founded in 1890, is a premier institution located in the capital of Spain. With several campus sites located throughout Madrid, the political, economic and cultural heart of Spain, it offers an excellent opportunity for academic, professional and personal development. The Faculty of Humanities and Social Sciences coursework take place at the Cantoblanco campus which is located north of Madrid.
Prerequisites
Students are required to have taken three years of college-level Spanish (completion of SPAN 353 or the equivalent) prior to attending the program

Students must have completed their sophomore year of college prior to attending program.

3.0 GPA
Courses
Students earn a full semester of American University (AU) undergraduate credit while studying at Universidad Pontificia Comillas. Students directly enroll at Comillas. For more information about what is means to directly enroll in a foreign university, please view our Direct Enrollment page. The Cantoblanco campus, where the Humanities faculty is located, is in the northeast section of Madrid, accessible via the Cercania train network.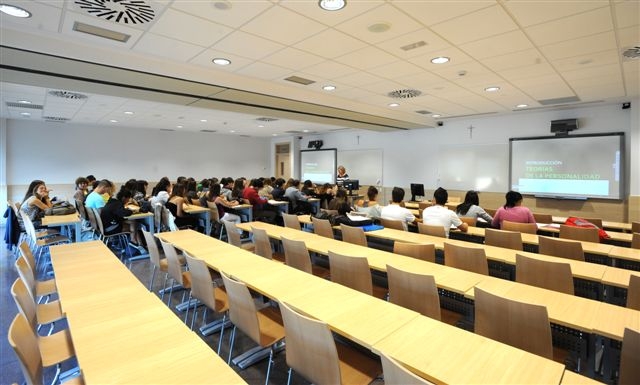 In this program, students with advanced Spanish language skills take classes with Spanish students and other international students. The Faculty offers courses taught in Spanish as well as a select few in English. However, AU students are *not* allowed to take courses in English in this program. Students in this program should take all of their courses in the Spanish language. Courses taken in English will NOT receive AU credit.

Subject areas on offer at this campus include: Spanish language, Spanish Studies, Translation, Interpretation, Education, International Studies, Psychology, Philosophy, and several other modern languages. Spanish as a foreign language coursework is available at the advanced levels, as are courses in Spanish literature and culture.
See the attached excel document that displays current projections of courses to be on offer. **Keep in mind that courses are not guaranteed, and students should have a high level of flexibility in which courses they take at Comillas; course schedules will be finalized upon arrival in Madrid - not before. Students cannot take "anual" courses unless they plan to be in Madrid for the full academic year. Also pay attention to which "semester" the course is offered. "1º Semestre" refers to the Fall semester and "2º Semestre" refers to the Spring semester.
List of courses Humanities Faculty 13-14.pdf. Full course descriptions can be found Here.
Course Equivalency
Click here to find out which courses on this program have already been equated to AU courses. Please note that you are NOT limited to just these courses. Students will need to request equivalency for courses which have not been previously reviewed. Read more about the course equivalency process and how AU counts study abroad credits on our Courses and Credits page.
Student Life
Only in Madrid can you stroll through the lovely Retiro Park and enjoy the jugglers and mimes, treat yourself to "tapas" while taking in the exquisite design of the old Plaza Mayor, or view the paintings of Goya, Velasquez, and El Greco at the Prado Museum. Also Madrid's fabulous public transportation system makes conquering this exciting city easy!
Madrid truly lives up to its title as the city that never sleeps. Night-owls delight in Madrid as you are expected to eat and dance the night away, whether you're twenty years old or fifty years old. There is always something to do in Madrid no matter what time it is.

Housing and Meals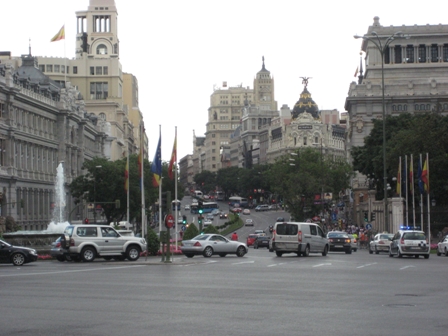 Homestays coordinated by AU
Full integration happens in the home, as well as the classroom. During your semester in Madrid you will live in a Spanish home coordinated by the AU Center in Spain. Your homestay allows you to experience the warmth and hospitality of Spain while improving your language skills. Once you have completed AU Abroad on-line pre-departure forms, the AU Abroad Madrid on-site Coordinator will organize your living arrangements before you arrive. Students may be in single or double rooms. In the homestay, students enjoy breakfast, lunch, evening meals and, in most cases, weekly laundry.




Visa Information
Upon acceptance, the international coordinators at Comillas will provide students with a visa letter. AU Abroad will distribute the letters to students. Students are responsible for contacting the Spanish Embassy or Consulate to find out which additional documents are needed to obtain a student visa. Students should apply for their visa with plenty of time.

Connect with Spain!
AU students are lucky to live in the DC area near the Spanish Embassy and DC Consulate. The Embassy and Consulate is located near George Washington University in the Foggy Bottom neighborhood of DC. There is also a cultural center near 16th and Fuller St., NW where many events are held. The Embassy often holds events related to Spanish culture that will be of great interest to AU students before and after a study abroad semester in Spain. Visit their website to learn more information and to read about the visa process! SPAIN arts & culture is another great site that features events and exhibits of the most cutting-edge works of international renowned Spanish artists in fields such as design, urban culture, architecture, visual arts, film, performing arts, literature and music. Take advantage of your DC location by participating in events and soaking up some Spanish culture stateside!
Term

Year

App Deadline

Decision Date

Start Date

End Date

Spring

2014

09/15/2013 **

Varies by program

01/06/2014

05/24/2014

Academic Year

2014-2015

02/26/2014**

Varies by program

TBA

TBA

Fall

2014

02/26/2014**

Varies by program

TBA

TBA


** The time it takes to receive an admissions decision varies greatly by program; it can take as little as two weeks or as long as several months. Contact AU Abroad for further details on your program's admissions timeline.

Indicates that deadline has passed