Programs
Brochure
This page is the brochure for your selected program. You can view the provided information for this program on this page and click on the available buttons for additional options.
Morocco: AMIDEAST in Rabat
Rabat, Morocco
(Outgoing Program)
Housing:
Dormitory, Homestay
Language Pre-requisite:
none
Language of Instruction:
Arabic, English, French
Non-AU Students Accepted by AU:
No
Internship:
Yes
Advisor:
Kelly Jo Bahry
Minimum GPA:
3.0
Class Level Required for Admission:
Junior standing
Program Type:
Not Direct Enrollment
Is this program right for you?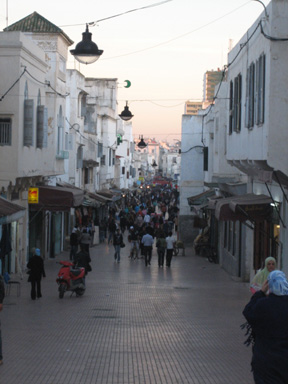 This program is designed for U.S study abroad students with an interest in studying Arabic and the Middle East/North African region who can earn 14 or 17 credits during each semester. This program includes a staff devoted to the well being of the students, courses taught by Moroccan faculty, immersive housing options and numerous cultural activities. Upon completion of this program, students will be well-versed in the issues in contemporary Moroccan culture and made significant progress in their Arabic language skills. Please look over frequently asked questions and answers here.
Academics
The AMIDEAST Education Abroad Program in Rabat offers a diverse set of courses, semi-intensive instruction in Modern Standard Arabic and Moroccan Arabic. Rabat is one of Morocco's "imperial cities," and its modern capital. It is home to the leading educational institutions in the country and offers students opportunities to move from the shops and cafes of the "European" city to the winding alleys and exciting markets of the old medina in a few minutes' walk.
Students in the program live either with Arabic-speaking Moroccan families or in a private Moroccan student residence hall and attend courses at AMIDEAST's facilities in the bustling neighborhood of Agdal. Courses are taught by English-speaking Moroccan faculty members from local universities.

Course Equivalency: Click here to find out which courses on this program have already been equated to AU courses. Please note that you are NOT limited to just these courses. Students will need to request equivalency for courses which have not been previously reviewed.

Language Courses
Language Studies All students will enroll Modern Standard Arabic (MSA) for five credits and Moroccan Colloquial Arabic (Darija) for three credits, totalling eight credits. For MSA, students will be given a placement exam on arrival and enrolled at the appropriate level.
Middle Eastern/North African Studies Courses
Students will enroll in two to three area studies courses, varied by semester. Course descriptions can be found here. Options could include:
* Economic Development in the Middle East and North Africa
* Contemporary History of Morocco and North Africa
* The Islamic World and the West
* Issues in Contemporary Moroccan Culture
* Morocco's Jewish Heritage
*Contemporary Moroccan Culture
* Amazigh History and Culture
* Islamic Reforms and Islamism
* Political Systems of the Maghrib
* U.S. Relations with the Arab/Muslim World
* Islamic Reform and Islamism
* Islam in Morocco Today
* Gender, Islam, and Society
* Litteratures Francophones du Maghreb (taught in French)

* Community Based Learning
This course is designed to enhance students' critical and analytical intercultural communication skills with the aim of developing intercultural competence. This is accomplished through course work and practical engagement and interaction with host country society in private, official, and semi-official spaces. Guided and facilitated by the course instructor, students are expected to spend approximately six hours at their community placement work-site each week and submit journal entries reflecting on their experiences. At the end of the semester they design and deliver a final service learning project to be shared with a larger audience. Through their intercultural experiential education, students develop their intercultural competence which is a valuable asset in the global marketplace.
Scholarships
AU Abroad provides students the opportunity to apply for the AU Abroad Mobility Award, in which students can earn up to $2500 per semester towards their tuition and program fees. AMIDEAST also provides students the ability to apply for several different scholarships for their programs. It is the responsibility of the student to find out how to apply for these opportunities.
Activities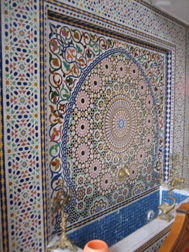 In addition to the academic program, the AMIDEAST Education Abroad Program in Rabat offers a variety of additional learning opportunities to enhance participants' study abroad experience.

* Civil Society: Students will encounter a variety of Moroccan civil society organizations ranging from political and human rights groups to women's organizations to sports clubs. AMIDEAST will organize special activities to facilitate student connections to these organizations.
* Service-learning: AMIDEAST coordinates organized service-learning projects either for individual students or for larger groups. With many connections to a wide range of organizations in Morocco, AMIDEAST can adapt projects to individual student interests to ensure a unique and satisfying service-learning experience.
* Cross-cultural learning: AMIDEAST organize a variety of cross-cultural learning opportunities. Ranging from meet-and-greets to formal presentations, these events give participants the chance to interact with Moroccan students, to learn more about Morocco, and to introduce others to American culture.
Academic excursions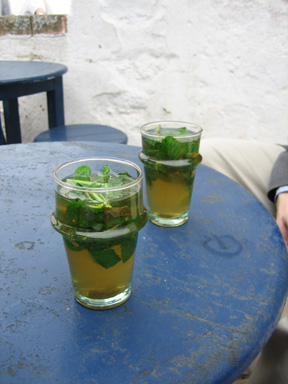 AMIDEAST Education Abroad Program in Rabat students participate in three program-organized ex
cursions outside of Rabat to visit major cities and historical sites in Morocco. The excursion
s are coordinat
ed by AMIDEAST/Morocco in conjunction with the program's academic staff from Mohammed V University-Agdal and are led by a member of the faculty. Organized activities are combined with limited free time, allowing students to explore independently within a s
afe and structured framework.
Student Life
Morocco is a gateway to the Arab world and beyond. A meeting point for civilizations and continents situated on the northwest tip of Africa. Contemporary Morocco, with its 35 million people, is a unique mixture of Middle Eastern, African, and European cultures. Students will have the opportunity to experience life in a Muslim country while exploring the distinct society and traditions of the Maghreb. Morocco's political, social, economic and historical experiences will challenge students' preconceptions about Islam, democracy, development, ethnicity and modernity.
Please see AMIDEAST students' experiences on their blog here
.
Housing & Meals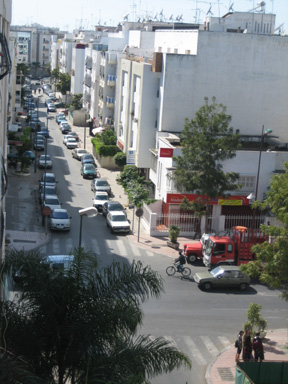 Students enrolled in the AMIDEAST Education Abroad Program in Rabat, Morocco have a choice of living arrangements and meal plans.
Homestays
Living with a Moroccan Family – students who select this option will live with a Moroccan family that has been carefully screened by AMIDEAST/Morocco from a database of qualified applicants. Students usually are placed with families who have previous experience hosting American students through AMIDEAST. Few, if any, families speak English. Most host family members speak Arabic as a first language and also speak French; a small number of family members also speak Spanish or Amazigh (Berber) as well. Two AMIDEAST students with roughly the same level of Arabic will be placed with each family.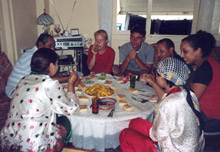 AMIDEAST matches students with host families using a variety of criteria. While all placement preferences may not be met in every case, AMIDEAST will strive to make the best match to ensure a rewarding and pleasant living experience. In the event of a problem, AMIDEAST Education Abroad Program staff members will be available either to mediate or to arrange a new host family placement. Students living with host families will be provided with all meals by their host families but may find that some days it is not possible to return to the family for lunch because of class schedules.
Student Residences
Living in a student residence with a Moroccan roommate – students who select this option will live in a private Moroccan student residence hall that opened in 2007. Each double room has a private bathroom and toilet, small refrigerator and cooking facilities and internet access. There are separate buildings for male and female students and strict gender segregation is enforced. The residence hall is located in the university quarter of the city and students living there should expect to take public transportation to and from classes. A student cafeteria is located across the street and students may eat there, prepare their own meals in their rooms, or eat in restaurants, at the University and other universities in Rabat and neighboring cities.
Visa Information
American citizens must present a valid passport, but they are not required to obtain a visa to travel to Morocco. Visitors may remain in Morocco for up to 90 days, after which time they must leave the country or apply for a residency permit. AMIDEAST will coordinate the visa extension process when necessary.
Citizens of other countries should check with AMIDEAST during the application process to ascertain what visa requirements they may face.
Term

Year

App Deadline

Decision Date

Start Date

End Date

Spring

2016

09/23/2015 **

Varies by program

01/16/2016

05/13/2016

NOTE: Students must be in Morocco on January 16th. The final required day of the program is May 13th. Students must leave program housing on May 14th.

Academic Year

2016-2017

02/24/2016 **

Varies by program

TBA

TBA

Fall

2016

02/24/2016 **

Varies by program

08/21/2016

12/17/2016

NOTE: Students need to arrive in Rabat on August 21st, and depart their AMIDEAST housing on December 17th.

Spring

2017

09/27/2016 **

Varies by program

01/14/2017

05/13/2017


** The time it takes to receive an admissions decision varies greatly by program; it can take as little as two weeks or as long as several months. Contact AU Abroad for further details on your program's admissions timeline.

Indicates that deadline has passed