Programs
Brochure
This page is the brochure for your selected program. You can view the provided information for this program on this page and click on the available buttons for additional options.
United Arab Emirates: AU Sharjah
Sharjah, United Arab Emirates
(Outgoing Program)
| | | | |
| --- | --- | --- | --- |
| Housing: | Dormitory | Language Pre-requisite: | none |
| Language of Instruction: | English | Language Courses Offered: | Yes |
| Non-AU Students Accepted by AU: | No | Internship: | No |
| Advisor: | Kelly Jo Bahry | Minimum GPA: | 2.75 |
| Class Level Required for Admission: | Second-semester Sophomore standing | Program Type: | Direct Enrollment |
Is this program right for you?
This program may be a good match for students seeking a unique study abroad experience. Study at AUS offers students an insight into the multifaceted nature of life in the Emirates as the country and region attempt to combine a traditional culture with modern economic development. While the diverse student population would allow for casual practice of different Arabic dialects, AUS is not recommended for exchange students focused on studying the Arabic language.
Students who are focused on learning/studying Arabic while abroad are encouraged to apply to study with other AU Abroad programs in Jordan or Morocco, instead of AUS.
Academics

American University of Sharjah (AUS) was founded in 1997 with the goal of becoming the leading educational institution in the Gulf region. AU and AUS have a unique relationship, because AU was instrumental in helping AUS get started and has continued to play a key role in providing assistance for its Middle Eastern partner. While based upon American institutions of higher education, AUS is also thoroughly grounded in Arab culture and is emerging as a leading comprehensive coeducational university in the Gulf, serving students from the region and around the world. Students come from over 70 countries, so there is a definite cross-cultural component to the experience. The Office of Student Affairs organizes events and excursions, including a two-day "Global Celebration" so that students may showcase their diverse backgrounds. The Office of International Exchange Programs is also very active with the student community.
AU students directly enroll in AUS for either a semester or for a full year and earn AU credit. For information on what it means to directly enroll in a foreign university, please read here for more details: Direct Enrollment.
Coursework
AUS offers courses in 21 academic disciplines, all taught in English, giving AU students great flexibility and the chance to take any course of interest except in the field of Architecture. AUS has four schools: Arts and Sciences; Architecture and Design; Business and Management; and Engineering.
You will be assisted by a Faculty Advisor while in Sharjah. Course listings and descriptions can be found at the AUS website. Students are encouraged to take only 300 and 400 level courses. Courses take place Sunday through Thursday.

Course Equivalency: Click here to find out which courses on this program have already been equated to AU courses. Please note that you are NOT limited to just these courses. Students will need to request equivalency for courses which have not been previously reviewed.

Internships
Students may independently arrange their own internships based upon personal contacts. Students must obtain prior approval from their academic advisor to receive major credit for their internship abroad.
Student Life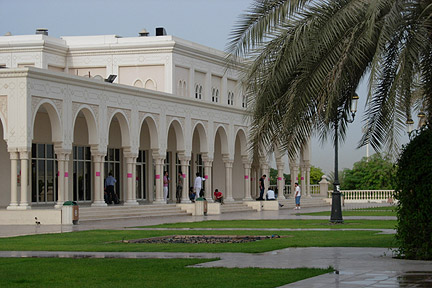 The UAE is widely recognized as one of the safest and most cosmopolitan places in the Middle East. Today, as in ancient times, the Gulf region is a global trade center. Most of the residents of the Emirates are immigrants from all over the Middle East and Asia. This diversity is reflected in the student population of AUS. To experience living in a truly diverse community, study at American University of Sharjah.
AUS is situated in University City, a 1,640-acre educational complex that includes seven independent colleges and universities. All are gender segregated except AUS, which is also accredited by the Middle States Association, the same organization that accredits AU. The campus boasts distinctive architecture composed of domes and arches for the Main Building and other academic buildings. It is located just outside the city of Sharjah.
Students are encouraged to get involved on campus through the many student activities, clubs and intramural sports. Students also meet new people working in the Writing Center and tutoring for the English Language Institute. While you get a sense of being at an "American style" university, AUS is in a very traditional Islamic area, which influences your daily routines. During orientation, you will learn more on cultural norms, but note that modesty for both men and women is important in terms of clothing choices and they do not make physical contact in public, such as holding hands (except perhaps during a traditional folkloric dance performed from time to time at campus celebrations).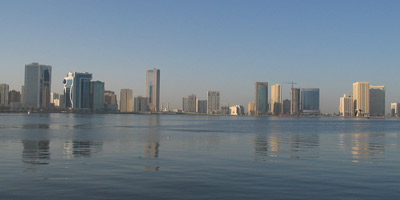 The name Sharjah refers to both the Emirate itself, the third largest of the UAE, and the city of Sharjah, which is the largest city and seat of government for the Emirate of Sharjah; it is located close to Dubai, overlooks the Persian Gulf and has a population of over 800,000 inhabitants. Sharjah is known for its concentration of educational and cultural institutions as well as administrative and commercial centers. There are two well-known 'souks' or covered shopping districts housed in unique landmarks that reflect Islamic art and architecture.
Housing and Meals
Exchange students are responsible for making housing and meal arrangements independently. Upon acceptance to AUS, students complete a Housing Application Form and pay AUS directly. The campus includes ten student residence halls, seven for men and three for women. Every Residential Hall Room has cable television and internet access. The Halls are equipped with a computer lab, fitness room, laundry, billiard and a T.V. room. Students can opt for private or shared rooms. Generally the dorms are the best place to meet other students.
Students are responsible for their own meals. An option to have a room with a kitchen for self-catering is available. The campus has a variety of fast food and diet corners as well as a cafeteria to suit your lifestyle and budget. In Sharjah, there are also two supermarkets about 15 minutes by shuttle or taxi from campus, in addition to mega-malls, the 'Blue Souk' shopping area and cafes; nearby Dubai City Center also offers eateries, mega-malls, cinemas and other activities.
AU students have access to all student activities, including a large sports complex (with separate workout hours for men and women), an Internet café, and a bowling alley. The sports center includes an Olympic-size swimming pool, basketball/volleyball courts, fitness training rooms and squash courts. There are outdoor tennis courts, a soccer field and a cricket pitch. Students may also explore the Indian Ocean beaches and desert regions -- excursions are occasionally organized by the Office of Student Affairs.
Visa Information
Upon acceptance, on-site staff at AUS will provide students with visa information. AU Abroad can assist in acquiring this information, but students are responsible for obtaining their visa and finding out if additional documents are needed to obtain a student visa.
Term

Year

App Deadline

Decision Date

Start Date

End Date

Spring

2016

10/09/2015 **

Varies by program

01/31/2016

05/25/2016

NOTE: These dates do not include move in or orientation, which could be up to nine days before the semester begins. It could be that students can finish exams no sooner than a week before the semester ends.

Academic Year

2016-2017

03/09/2016 **

Varies by program

08/28/2016

05/18/2017

Fall

2016

03/09/2016 **

Varies by program

08/28/2016

12/22/2016

NOTE: These dates do not include move in or orientation dates.

Spring

2017

10/05/2016 **

Varies by program

01/13/2017

05/18/2017


** The time it takes to receive an admissions decision varies greatly by program; it can take as little as two weeks or as long as several months. Contact AU Abroad for further details on your program's admissions timeline.

Indicates that deadline has passed