Programs
Brochure
This page is the brochure for your selected program. You can view the provided information for this program on this page and click on the available buttons for additional options.
Belgium: European Union in Action
Brussels, Belgium
(Outgoing Program)
| | | | |
| --- | --- | --- | --- |
| Housing: | Homestay | Language Pre-requisite: | No |
| Language of Instruction: | English | Language Courses Offered: | Yes |
| Non-AU Students Accepted by AU: | Yes | Internship: | Yes |
| Advisor: | Kelly Jo Bahry | Minimum GPA: | 2.75 |
| Class Level Required for Admission: | Second-semester Sophomore standing | Program Type: | Not Direct Enrollment |
Is this Program Right for You?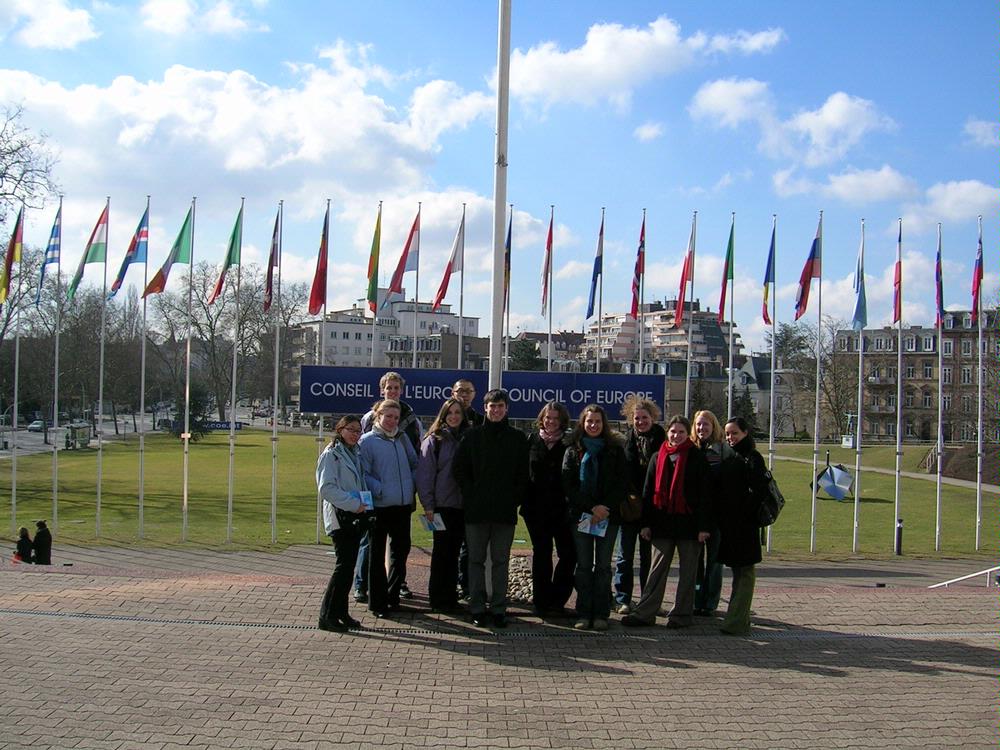 This program will accept applications on a rolling basis, and we will close the application for any given semester after we meet capacity. For more detailed information related to this program, please visit the AU Brussels website. The European Union in Action Program offers you an in-depth understanding of the European Union and NATO. It offers an exciting combination of:
Classes and seminars with decision makers that give you expert knowledge of the European Union and NATO.
Access to the players behind the scenes in Brussels.
Internships that give you a real-world international professional experience.
Field trips that allow you to see the EU in action outside of Brussels and that broaden your perspective on Europe.
Living arrangements that enhance your understanding of Europeans.
Cultural activities to enrich your experience in Europe.
This program is a well rounded, intense academic experience that will make each student an expert on European affairs and the European Union's role on the global stage. You will get to know the ins-and-outs of Brussels better than you know Washington.
Academics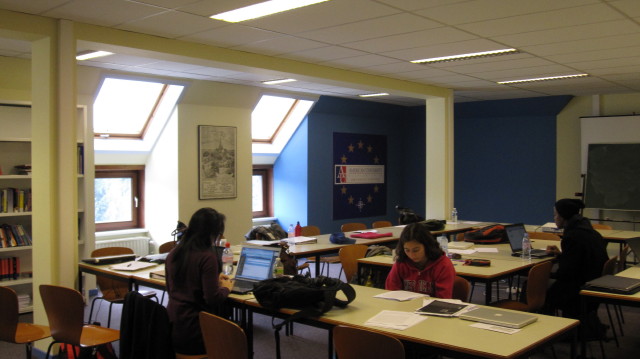 The following courses are offered each semester in Brussels and total 15-16 credits. Learning in the class room happens at the
AU Brussels Center
. All of the courses include
guest speakers
and
local and regional field trips
. There are no prerequsites required fore the following required courses:
The Government and Politics of the European Union
(3 credits, SISA 383
or
GOVT333)
In this course, you study the government, politics, and foreign policy of the European Union. You study the evolution of the EU and its relationship with its member states. You study the political dynamics of its system of governance and how these dynamics are evolving. You learn about the EU's key role in global political affairs, and its interaction with the rest of the world. (Honors credit available to qualified AU students)
Economic, Environmental, and Trade Policy in the European Union
(3 credits, SISA 323 or ECON 458)
This course is intended to help you develop an in-depth working knowledge of the EU's economic, environmental and trade policies. By doing so, you will gain a greater understanding of the process and evolution of European economic integration, and its implications for the world. The first part examines the EU's Single Market and its system of economic governance. The second part focuses on the EU's environmental policies and the global implications of those policies.The third part of the course will focus on the EU's external economic relations. You study the EU's role in the WTO.
Politics and Economics of European Defense
(3 credits, SISA 383)
This course is an in-depth study of the European Union's Security and Defense Policy. You will study the political and economic dynamics that are driving the development of the EU's Security and Defense Policy. You will discusses the interaction between these economic and political dynamics.You will examine the EU's comprehensive approach of combining and political, economic, and defense capabilities in undertaking missions. You will study the security-development nexus and the EU's strategy toward security in the developing world in general, and particularly toward Africa.
NATO and International Security Organizations
(
3 credits, SISA 333)
This course is an in-depth study of the role of NATO and other international security organizations in the global security architecture of the world. Since the end of the Cold War, the global security environment has grown increasingly complex. The North Atlantic Treaty Organization (NATO) remains the cornerstone of European security, but it is a different kind of alliance than in the days of the Cold War. The UN Security Council remains pre-eminent in legitimizing military operations, but is often sidelined and ignored. A variety of other international organizations have moved into the security field, like the Organization for Security and Cooperation in Europe, the Organization for the Prohibition of Chemical Weapons, the International Atomic Energy Agency, the International Criminal Court, not to mention the European Union. What will the architecture of international security arrangements look like in the future? That is the question that this course examines.
Living in French
(FREN-224-001S - 1 credit)
This optional, one-credit hour course is offered in two sections. The first is for students who have taken French in the past and who wish to improve their oral and aural conversation skills for everyday life. The second is for students with little or no background in French who wish to learn the basics of communicating in the language.
Internship
The AU Brussels Internship is a critical component of the Brussels program that allows you to use what you learn in the classroom in your internship. Students intern two days a week, most weeks. The Brussels Internship Coordinator works with students to place them in a challenging internship in organizations and corporations whose daily activities bring them into contact with the EU or NATO.
AU Brussels Internship Learning Contract
(3 credit hours - required;SABD 391)
The internship course provides academic structure to the internship experience. The internship grade is determined by both the written academic work and an evaluation by the internship supervisor.

Past internships have taken place with members of the European Parliament, lobbying organizations, consulting firms, law firms, defense contractors, corporations, non-governmental organizations, etc. In past semesters, European Union in Actions students have:

*advised Belgian students and talked about studying in the United States; represented the internship organization at fairs and events; assisted with making sure that organizational events run smoothly; a lot of traveling inside and outside Brussels with the organization; attended several US Embassy visits; participated in meetings and panels in Waterloo and Mechelen

*interned on a range of projects for analysts and scholars, including preparing them for upcoming events and conferences, contributed research to their work prior to publish online or in print; researched potential foundation grants

*researched briefings over topics for panels, assemblies and events the organization is coordinating; edited all articles for newsletters; wrote preliminary drafts of speeches; assisted with planning the organization's General Assembly

*planed and executed the European teams' biannual events; handled payment processing and correspondence between the organization and its various members and sponsors; attended the organization's fall conference in Berlin with our team. The conference was an incredible opportunity to learn, work and network with professionals in the defense industry

*organized summits annually along with other programs and events to help promote the role of female representation in national governments worldwide; worked on a project to create a 3-year program to help promote and support the role women have in creating democracies worldwide

*worked on a number of projects relating to life sciences or food & drug law within the European Union; researched EU legislation and its scope; found guidelines from governing bodies and prepared documents for attorneys or their clients to help understand the guidelines; sat in on client calls and presentations

*researched and contacted potential distributors for an US company that wants to export to EU countries

*edited and wrote speeches and written statements as a native English speaker; read through documents and wrote summaries to explain some of the more complex details in plain English; attended committee meetings and other events to take notes or just monitor activity and report back

*assisted the regional directors in projects related to coordinating events between women's organizations around the world; researched to help update the database of 9,000 female parliamentarians from around the world; drafted speeches, emails, and communications for various aspects of projects and events

*researched European Union legislation relevant to legal cases; compiled data to be included in client briefs; found examples that would be used as a client's defense argument

*researched conflicts facing the global community and applied the organization's strategy of nonviolent civilian protection in areas such as the Philippines or South Sudan; interacted directly with the CEO and assist in project management of the organization's objectives in various countries

*interned at a non-governmental organization that tracks and analyzes the voting trends and activities of the European Parliament and European Council; analyzed the U.S. presidential race and how it effects EU policy through comparing the political institutions in the U.S. and the European Union; conducted research on a number of European issues; researched what influences voting behavior in the European Parliament and how those influences may differ from influences in the U.S. Congress

*interned with the organization's communications team; wrote press releases and blogs, taken photos, prepared program notes for concerts; helped compile a database of cultural institutions worldwide; helped with the organization's events and attend them
Scholarships
AU Abroad offers several merit based Mobility Awards every semester ranging from $250 to $2500. Students need who are interested in applying for the Mobility Award need to do so seperately from the AU Brussels application.
Honors Students
Please note that Honors Sections are only available to AU students in the Honors program. Each Honors student needs to contact the Honor's office to obtain appropriate Honors credit. Honors students from other campuses should check with their advisor to determine the availability of Honors Credit.
Student Life
Housing
Brussels students live with a family in a homestay
. The homestay experience offers insights into normal life for citizens living in one of the most powerful cities in the world. The homestay also provides a daily connection with modern Belgian culture that might otherwise be missed in the hectic pace of this busy European capital. The
Homestay Coordinator
makes sure students are placed with a family that provide a good match.
A student receives three evening meals with the family each week and breakfast daily. An additional meal stipend is provided to help defray the cost of some other meals. This formula allows a student to have as much or as little interaction with the family as the student desires. For a student who wishes to integrate with Belgians and improve her or his French, it's the perfect opportunity. However, for a student who wants to live more independently, there is no obligation to spend time with the family. Most, if not all, homestay hosts speak English and/or French.
You will not know your homestay placements until their arrival in Brussels.
Student Life
You are fully expected to integrate into Brussels life, be it trying to speak a
language other than English
, getting around by
public transportation
, getting to know
local places of importance
, trying
local foods
, and participating in at least one of the many ways Belgians find
entertainment
. You will have plenty of time to expore the region independently, but are heavily encouraged to also get to know the city, Brussels, you will call home for the semester.
To get a sense of where AU Brussels alumni are now, please review this group of diverse professionals.

Excursions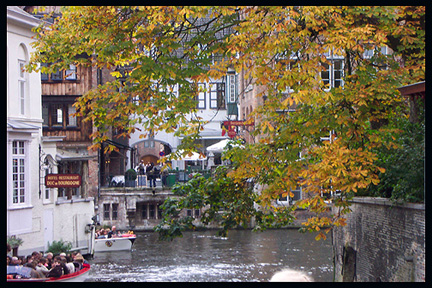 Included in the program fee are several field trips
. The program visits the historic Belgian cities of Antwerp, Ghent, Leuven, Bruges, and other historic locations. There are two overnight or weekend trips to visit EU and UN institutions in places like Luxembourg, The Hague or Geneva. There is an extended field trip to observe the EU's foreign policy in action. The destination of this trip varies each semester, but past trips have included visits to countries like Bosnia-Herzegovina, Serbia, Croatia, Montenegro, Cyprus, Turkey, or Russia. You will not know your class trip itinerary before you arrive in Brussels.
What Your Semester Looks Like
Every week on this program is very different, but typically you will have classes two and a half days a week (including evenings) and your internship two days a week. You will be traveling as a group with the program often during the semester. You will not know what field trips you will take with the program or when they will be until you arrive in Brussels and a week or two before an overnight excursion. You are provided week long semester break to do with what you like. That break is scheduled in advance and listed below under
Dates/Deadlines
.
Visas and Procedures
The process for Americans and other non-EU nationalities to obtain a visa is quite detailed, extensive, and lengthy. It is important no matter where you live you will be applying at the Belgium Embassy in Washington, D.C. Your study abroad advisor will work closely with you to ensure that you understand what is required of you to prepare for your time in Belgium, but of course it is up to each individual student to follow through with obtaining their own visa.
Term

Year

App Deadline

Decision Date

Start Date

End Date

Spring

2016

09/18/2015 **

Varies by program

01/15/2016

04/30/2016

NOTE: Students need to be at the designated hotel for orientation at 5pm on January 15th. Spring break is March 14th to March 18th for students to do what they will. The final exam and final lunch is April 29th. Students need to leave their housing on April 30th.

Fall

2016

03/09/2016 **

Varies by program

08/31/2016

12/16/2016

NOTE: Students need to be at a hotel in Brussels ready for orientation at 5pm on Wednesday, August 31st. Fall Break is October 31st to November 4th to do with what you will. Final exam and lunch is December 15th, and students have to leave their homestays on December 16th.

Spring

2017

09/15/2016 **

Varies by program

01/12/2017

04/30/2017

NOTE: Program dates are estimates. Do not finalize travel arrangements until exact dates are given by program.


** The time it takes to receive an admissions decision varies greatly by program; it can take as little as two weeks or as long as several months. Contact AU Abroad for further details on your program's admissions timeline.

Indicates that deadline has passed