International Careers
Information & Resources
Now that you have studied abroad, you may want to go abroad again. You may even want to live and work abroad upon the completion of your degree at AU. Below you will find information and resources about living and working abroad post-undergrad.
The Career Center
The Career Center at AU maintains an extensive list of employers in the area. They provide career advising, resume and cover letter assistance, and interview practice. Additionally, they offer the Job & Internship Fair every Fall and Spring semester. Learn more about the Career Center's opportunities.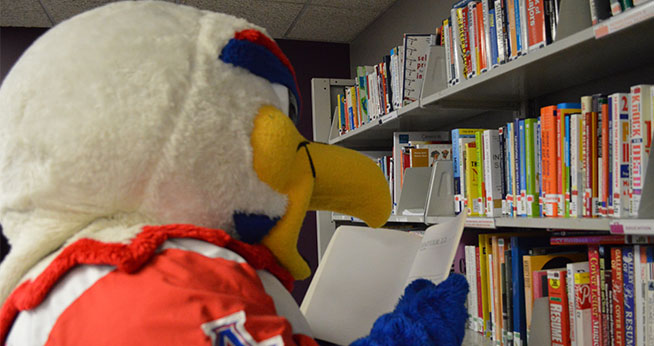 Photo Credit to AU Career Center
Additional Information, Resources & Databases
University of Minnesota Working Abroad
The University of Minnesota has provided some insight into things to consider if you want to work abroad in your future.
A website that keeps an updated list of jobs abroad ranging from teaching English, to nannying, to interning at start-up companies.
Language and Cultural Assistants Program in Spain
Participants in this program have the opportunity to assist in teaching English at a K-12 school in Spain after graduation. This program is managed by the Spanish Ministry of Education, Culture, and Sport as well as the Education Office of the Embassies of Spain in the USA. You will spend a full academic year in Spain, typically from the beginning of October through the end of May. Preferred placement in different Spanish regions can be requested. Participants in the program will receive a monthly stipend and medical coverage.
JET - Japan Exchange and Teaching Program
JET is a program sponsored by the Japanese government. Positions are available as an Assistant Language Teacher (ALT), Coordinator for International Relations (CIR), or -- for non-U.S. citizens only -- Sports Exchange Advisor (SEA). The salary is sufficient to cover personal expenses for living in Japan, and round-trip air transportation is provided. Japanese language not required. Contracts are for one year with extensions available. JETAA is a web site set up for JET Alumni. JET-L is an e-mail listserv set up for the purpose of discussion between returned and prospective JET participants. Subscribe to: listserv@listserv.arizona.edu by sending an e-mail with nothing in the subject line and write subscribe listname yourfirstname yourlastname in the body of the message.
The Best Work Abroad Resources provided by Transition Abroad are constantly updated and categorized by field. You will find articles on personal experiences and trends. This is an excellent resource on how to get into an international job. Additionally, you will find links to organizations with international work opportunities.
Conflict Dynamics International
Conflict Dynamics International is an independent, not-for-profit organization founded to prevent and resolve violent conflict between and within states, and to alleviate human suffering resulting from conflicts and other crises around the world.
Worldwide listing of open ESL teaching positions.
About Education's Guide to Education – Teaching Overseas
Information and articles on teaching English overseas.
Au Pair Europe offers au pair placements to both U.S. and Canadian citizens in countries such as Australia, Austria, Belgium, Bermuda, Denmark, Finland, France, Germany, Greece, Italy, the Netherlands, Norway, Spain, Sweden, Switzerland and the United Kingdom. Language proficiency may be required for some countries. Positions range in length of service and extended stays may be an option.
Includes listings of a wide variety of vacancies in Marketing, Healthcare, Finance, Technical and General Management in a number of European countries.
Entry-level jobs and internships in Europe, as well as other travel information.
International Career Employment Weekly
A comprehensive source of international careers for professionals, including international development jobs.
The International Monetary Fund (IMF) is an organization of 187 countries, working to foster global monetary cooperation, secure financial stability, facilitate international trade, promote high employment and sustainable economic growth, and reduce poverty around the world.
The World Bank was established in 1944, with headquarters in Washington, DC. It has two main goals, to end extreme poverty and promote shared prosperity. The World Bank provides financial and technical assistance to developing countries around the world to reduce poverty and support development.
USAID: US Agency for International Development
Features career resources including internships and new professional programs.
U.S. Department of State: Bureau of International Organization Affairs
The Bureau of International Organization Affairs (IO) is the U.S. government's primary interlocutor with the United Nations and a host of international agencies and organizations. As such, the Bureau is charged with advancing the President's vision of robust multilateral engagement as a crucial tool in advancing U.S. national interests. U.S. multilateral engagement spans the full range of important global issues, including peace and security, nuclear nonproliferation, human rights, economic development, climate change, global health, and much more.
U.S. Department of State: Bureau of Education & Cultural Affairs
Department of State's Bureau of Educational and Cultural Affairs (ECA) works to build friendly and peaceful relations between the people of the United States and the people of other countries. They do this through academic, cultural, sports, and professional exchanges, as well as public -private partnerships. They are in charge of the Fulbright program as well.
A non-profit, non-governmental organization which provides opportunities for individuals to live and work as volunteer teachers in developing countries.
NAFSA: Association of International Educators
These are designed to address specific topics in EA. You can find more details about these offerings at the NAFSA website. They help you stay up-to-date in the field.
A non-profit organization whose mission is to enrich and share the experience of living abroad through literature, humor and the arts, as well as by providing information and education on what it is really like to live in a foreign country and how to cope with the challenges that may come along.